Tours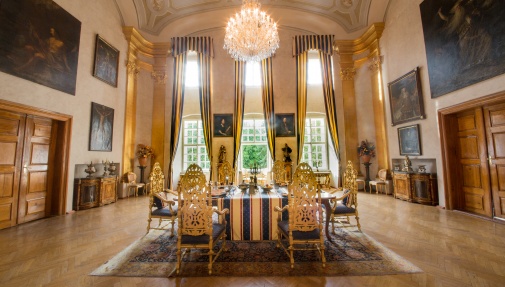 Classic
The Baroque Dětenice Castle offers 14 fully furnished rooms with secco and fresco wall paintings as well as Baroque and Rococo stuccos. The château interior is based on materials found in archives, dating mainly from the 18th century. This gives visitors the taste and style of what it was like to live as a member of the gentry at a typical landed estate.
The entrance hall houses a unique collections of weapons of the Knights of Malta including approx. 350 pieces of weaponry dating from the Thirty Years' War featuring unique ship canons from the momentous battle of the island of Rhodes of 1522. The château also houses a large collection of hunting trophies. After the tour, you can have a stroll in the château park where you can find ancient and unique tree species.
Witchlike Tours
Completely new funny tour of castle with our witch.
Spooky Saturdays
You can take part in an a special tour of the castle chambers, in the company of a witch!
In the light of the flickering candles, the local Baba Yaga Giselda recounts what life was like in Detenice Castle. Well-behaved children have nothing to fear and there's fun for all of the family.
This year-round Saturday programme is suitable for children of all ages, but we know that it will also be entertaining for adult visitors.
Fairy tale tours
Another unconventional story-telling castle tour awaits for the whole family. Would you like to find out who sets the mischevious princess straight? Become part of the adventure and discover the castle at the same time. Every hour on Sundays in the Detenice Castle the story of the Mischevious Princess takes to life. In the castle chambers you'll get to enjoy the story of the princess, which you may perhaps already know well.
The unique concept of the tour will enliven your Sunday afternoon, between 10.30-16.30. The last tour with the princess begins at 16.30.
Opening hours
 January, February, March

Saturday 11:00 - 17:00 - Witchlike tours

Sunday 11:00 - 17:00 - Classic tours (every odd hour)

 April

Saturday 10:00 - 17:00 - Spooky tours

Sunday 11:00 - 17:00 - Classic tours (every odd hour)

 May, June

Tuesday-Sunday 10:00 - 17:00 - Classic tours 

Saturday 10:30 - 17:30 - Spooky tours

Sunday 10:30 - 16:30 - Fairy tale tours

 July, August
Monday - Friday: Classic tours - 10:00 a.m. - 5:00 p.m.
Tuesday- Friday: Spooky Tour - 10:30 a.m. - 17:30 p.m.
Saturday: Spooky Saturdays - 10:00 a.m. - 5:00 p.m.
Saturday: Classic tour - 10:20 a.m. -17:40 p.m.
Sunday: Children's Day - 10:00 a.m. - 16:00 p.m.
Sunday: Classic Tour - 10:00 a.m. - 17:00 p.m.
 September

Tuesday-Friday  11:00 - 17:00 - Classic tour (every odd hour)
Saturday 10:00 - 17:00 - Tours with witch

Saturday: Classic Tours - 10:30 a.m. - 4:30 p.m. (every hour)
Sunday 10:00 - 17:00 - Fairy tale tours
Price list
| | | | | |
| --- | --- | --- | --- | --- |
|   | Chateau Classic tour/ Witchlike tour/ Fairy tale tour | Chateau classic tour and brewery tour (advantageous entrance fee) |  Spooky tour |  Spooky tour and brewery tour (advantageous entrance fee) |
|  Adults |  CZK 140  |  CZK 200  |  CZK 195  |  CZK 250  |
|  Children up to 6 years |  FREE | FREE |  FREE kids up to 3 yo  | FREE kids up to 3 yo |
|  Children 6-11 YO |  CZK 50  |  CZK 90  |  CZK 95 kids 3-11 yo |   CZK 155 děti 3-11 let |
|  Youth 12-18 YO |  CZK 80  |  CZK 115  |  CZK 155  |  CZK 185  |
|  Senior citizens |  CZK 80 |  CZK 115  |  CZK 155  |  CZK 185  |
|  Tour in English, German |  CZK 220  |  CZK 320  |  --- |  --- |
Price per one person
Group tours all year round for 10 or more people anytime on request.
Tour in a foreign language English and German up to 10 people extra charge 700 CZK
Entrance park: CZK 60