Corporate events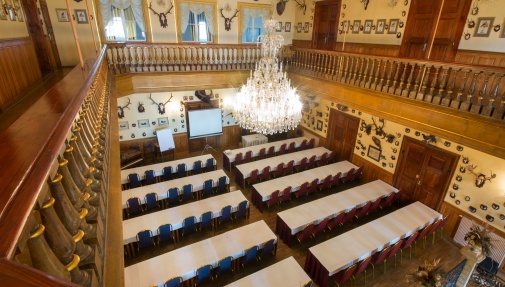 The Dětenice Château Resort is a suitable location not only for individual customers, but also for corporate events.


The historic rooms of the château can host:
Corporate Parties, Coffee Breaks,
Conferences, Presentations, Trainings,
Banquets, Buffet Dinners, Gala Evenings, Receptions,
Concerts, Historical Programmes etc.


You can rent the lounges, either partially or fully, the whole château or the Château Park. Conference rooms are available in the château in any of the lounges. We have a projecting screen, flip chart and data projector available for rent. Wifi connection is provided in some of the lounges.
The afternoon programme can be livened up with a tour of the château or the château brewery.We can also offer you a special teambuilding game called - GAMENESS COMPETITION.
Accompanying events we offer include– welcoming the guests with halberdiers and trumpeters, gunfire, medieval contests in the château park, guided tours of the château and brewery with Albrecht von Wallenstein with his consort and general, as well as midnight fireworks.


We can provide  accommodation in the Rustikal Hotel*** or the unique Medieval Hotel.


Catering during the whole event is provided in the Medieval Tavern, which is like a journey back to the Middle Ages with dishes that are served straight from over the fire.


An evening spent in the Medieval Tavern is spiced up by a medieval programme always from Monday to Sunday – starting at 7 p.m.. You will be entertained by a fakir, belly dancer, dwarf, beggar, swords men, all of which are accompanied by live music.


We can provide a photographer who will document the event to preserve this special and unique memory.


All events can be tailor-made to suit your requirements.